Find the volume V of the described solid S.
A frustum of a right circular cone with height h, lower base radius R, and top radius r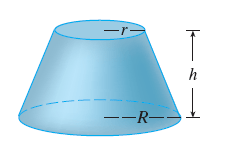 This one I am not sure about. I guess they are just asking for a general formula because they dont give any numbers?
My best guess is to integrate the volume of a cylinder from R to r:
but I think that is reaching at best.